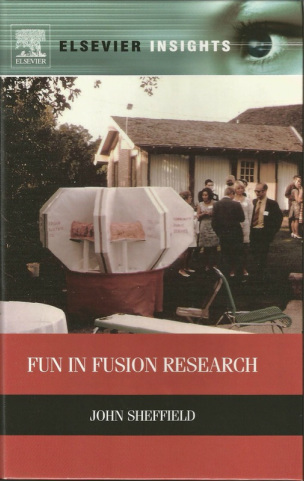 John Sheffield PhD is known worldwide because of his involvement in numerous multi-national fusion energy projects from the U.S. and Europe: In the 1970s, he was on the design team for the 16 nation, Joint European Torus project at Culham in England; in the 1990s, he served as a U.S. representative on committees that defined and then gave technical advice to the International Thermonuclear Experimental Reactor (ITER)—China, Europe, India, Japan, Korea, Russia, and the United States.
He served on the US-DOE's Fusion Energy Sciences Advisory Committee for over a decade, chairing it from 1996 to 2000.
On looking at this list he is surprised that there could have been any humor to be found, but there was and is as described in his memoir, Fun in Fusion Research, Elsevier, 2013. This book discusses the fun side of the quest to develop fusion energy—a modern equivalent of the hunt for the Holy Grail. After more than 70 years of research, despite great progress, the goal has not been realized. Do you have to be crazy to love quests like this? Not really, but you do have to have an unshakeable optimism as illustrated by Lev Artsimovich's parable, 'Teaching a donkey to speak French'. In this book you will also hear about the Texas Tokamak cake, fun in the Soviet Union, the pirate boat, the Shiva Winner Altruistic Trust, Sir Walter Raleigh selling fusion energy, and many other stories.




---